Business Studies
Business A Level
Examination board specification: Edexcel
The Pearson Edexcel Level 3 Advanced GCE in Business, is structured into four themes and consists of three externally examined papers. Students are introduced to Business in Themes 1 and 2, through building knowledge of core business concepts and applying them to business contexts, to develop a broad understanding of how businesses work. Breadth and depth of knowledge and understanding, with applications to a wider range of contexts and more complex business information, are developed in Themes 3 and 4 which requires students to take a more strategic view of business opportunities and issues. Students are encouraged to use an enquiring, critical and thoughtful approach to the study of business, to understand that business behaviour can be studied from a range of perspectives and to challenge assumptions.
Themes 1 and 2 are covered in Year 12 with themes 3 and 4 covered in Year 13.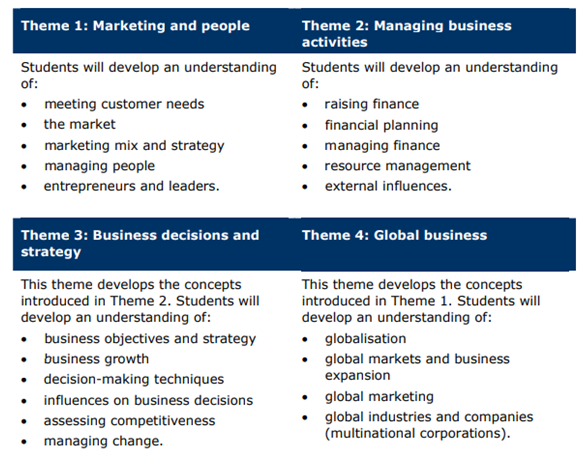 How is work be assessed?
Exam Board: Edexcel/Pearson
For A Level Business, a 100% terminal rule applies. Students will follow this linear course where they will be externally examined in the summer of Year 13. There are three papers, each lasting two hours.
Where it leads:
A Level Business is accepted (with other subjects) as an appropriate qualification for entry to almost any career or degree course.