Ensuring Learning is Possible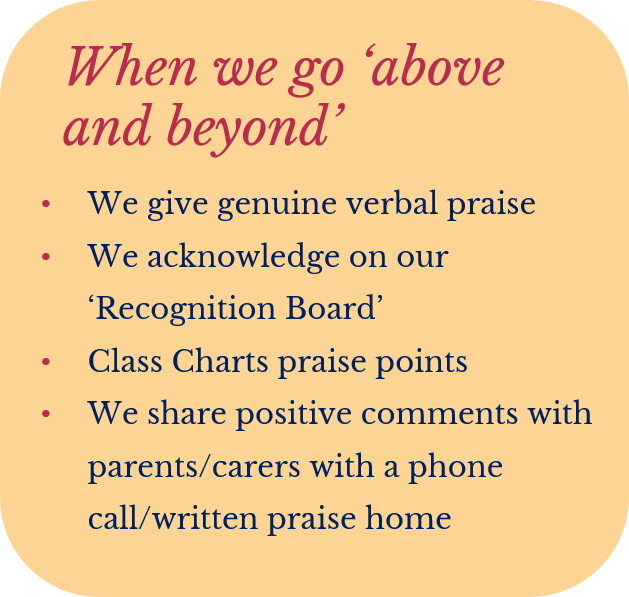 The College will encourage your child to do their best in a number of ways, including positive verbal comments, through class recognition boards, the use of praise within our marking and praise points awarded via our online system 'Class Charts.' In addition, students who are attending College well will be celebrated in assemblies.
Our reporting system is designed to recognise success and students' achievements throughout the year - this will feed into celebratory events, such as the 'Premier Awards' and the 'Sports Awards' evenings, so that outstanding student effort, progress and achievement can all be celebrated at special evening ceremonies.
The poor behaviour of the few should not affect the learning of the many
For students who find it more difficult to settle to their learning, we have a range of other strategies that we can put into place, as we will not accept the poor behaviour of the few, affecting the learning of the many. These sanctions include student reports, behaviour intervention where appropriate and detentions at various levels.
In addition, we have a 'Ready to Learn' room for students who fail to complete set work or behave inappropriately. Here students will work in silence and the event will be logged on the student's file. Ready to Learn, alongside not completing homework, will lead to a detention supervised by a member of staff at a given date and time.
Persistent offenders will be removed from class for a period of time and will be held in internal reflection, which may take place outside the Principal's or Deputy Principal's Office and will include supervision at break and lunch-time.
In extreme circumstances, students may receive a fixed-term suspension and can even be permanently excluded from the College for persistent disruptive behaviour. In such cases, we will always try to support the child to improve their behaviour. However, ultimately, continuous disruption to learning will not be tolerated and a student may be withdrawn from lessons and social time until their behaviour improves.
Students with additional needs will be supported to meet these standards