Attendance & holidays
Good attendance is really important!
COVID Attendance: Please follow this link for guidance on school attendance and Covid
Every year, we see that students who attend well achieve more. Therefore, high levels of attendance are really important.
Attendance below 90% puts a student into the persistent absentee category and the College will have to take action
90% attendance will mean approximately 2-3 weeks of lessons will have been missed!
Poor attendance hinders a child's progress and teachers will be unable to cover work missed
You should aim for 100% attendance by your child, who will be recognised for achieving that level and, most importantly, your child will have every chance of reaching their true potential.
No Holidays in Term Time
The Government's amendments to the 2006 regulations removes references to family holiday and extended leave, as well as the statutory threshold of ten school days. The amendments also make clear that Headteachers (or their designated representative acting on their behalf) may not grant any leave of absence during term-time unless there are exceptional circumstances.
Headteachers (or their designated staff) are required to determine the number of school days a child can be away from school if the leave is granted.
Therefore, no holidays should be taken during term-time, including Activity Week in July.
Please contact the Head of Year in the first instance if you have further questions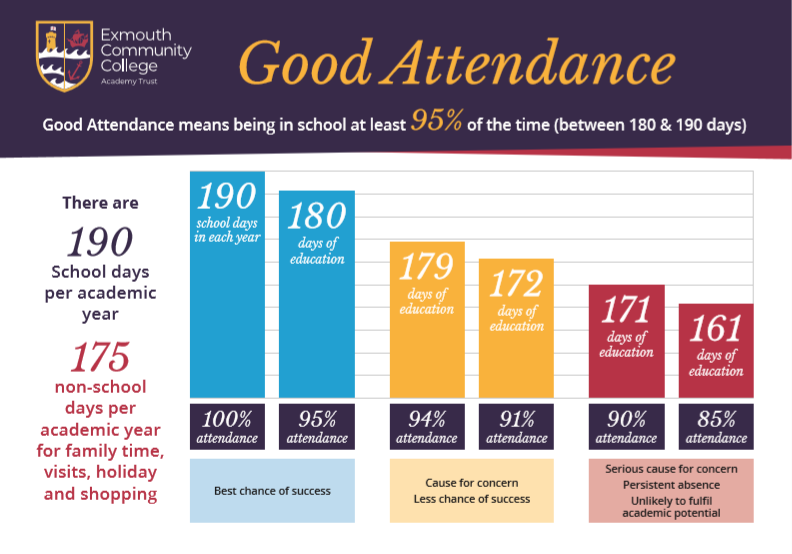 Informing us that your child is ill:
Please telephone the College on each day that your child is absent, ideally before 8.30am
Key Stage 3: 01395 255695 / 01395 255600
Key Stage 4: 01395 255651 / 01395 255679
Key Stage 5: 01395 255660
Information on child employment rules: click here
College attendance policy HERE