Attendance & holidays
Informing us that your child is ill:
Please can all parents and carers contact the College DAILY should their child be absent.
Contact should be made before 8:30am.
Please report absence by emailing your child's key stage attendance team:
Key Stage 3 (Yrs. 7, 8 and 9) - ks3attendance@exmouthcollege.devon.sch.uk
Key Stage 4 (Yrs. 10 and 11) - ks4attendance@exmouthcollege.devon.sch.uk
Post 16 (Yrs. 12 and 13) - ks5attendance@exmouthcollege.devon.sch.uk
Please include your child's full name, tutor group and the concise reason for absence.
Students who have been absent because of sickness and diarrhoea should return to College 48 hours after the last episode.
Students who have been absent because of sickness and diarrhoea should return to College 48 hours after the last episode.
Good attendance is really important!
Every year, we see that students who attend well achieve more.
Therefore, high levels of attendance are really important.
Attendance below 90% puts a student into the persistent absentee category and the College will have to take action.
90% attendance will mean approximately 2-3 weeks of lessons will have been missed!
Poor attendance hinders a child's progress and teachers will be unable to cover work missed.
You should aim for 100% attendance by your child, who will be recognised for achieving that level and, most importantly, your child will have every chance of reaching their true potential.
ABSENCE REQUESTS DURING TERM TIME
Unfortunately, we are only able to authorise exceptional circumstances for absence requests. This is a legal requirement for all schools. We are unable to authorise any requests for holiday during term time, including Activities Week. If absence is taken without authorisation by the College, this will lead to further action by the Education Welfare Service and could incur a fine (please see the base of this email for further information around unauthorised absences). We would therefore encourage you to communicate closely with us if you do need to apply for an exceptional absence. Request forms for exceptional absence can be collected from the Key Stage offices or can be downloaded below.
S2 forms should be submitted at least three weeks in advance of the absence request period to guarantee it is processed in time. If you send an email request, we will not process this unless you have filled in the Devon S2 Absence Request Form. Completed electronic S2 forms must be emailed to either KS3attendance@exmouthcollege.devon.sch.uk or KS4attendance@exmouthcollege.devon.sch.uk depending on which Key Stage your child is in.
CHILD EMPLOYMENT AND WORK PERMITS
A reminder that any child aged 13 up, until school leaving age, must have a work permit if they have a small part time job. The link below is to guidance around child employment. Work Permit application forms can be picked up at either the Key Stage 3 or 4 offices or printed off by downloading the guidance and work permit below.
USING CLASS CHARTS TO MONITOR YOUR CHILD'S ATTENDANCE
In order to fully keep track of your child's attendance, rewards, behaviour, homework, timetable, College announcements and other important information, please download the Class Charts parent/carer app and contact the College for the access code. Students can also download the student app and request an access code to help them monitor key information. Please click on the link below for full information on how Class Charts works. Some features referenced in this guide we do not use as a College.
HOW TO CONTACT THE COLLEGE REGARDING ATTENDANCE CONCERNS:
FIRST INITIAL CONTACT – contact your child's tutor via email.
SECOND CONTACT – if the Head of Year or Pastoral Assistant for the Year Group are involved in supporting your child, contact them via email.
MORE GENERAL ATTENDANCE ENQUIRES – if you have a more general enquiry about attendance, email using the following email addresses.
If your child is in Key Stage 3 – KS3attendance@exmouthcollege.devon.sch.uk
If your child is in Key Stage 4 – KS4attendance@exmouthcollege.devon.sch.uk
If your child is in Post 16 – Post16attendance@exmouthcollege.devon.sch.uk
For further information, download the Attendance Guide for Parents and Carers below.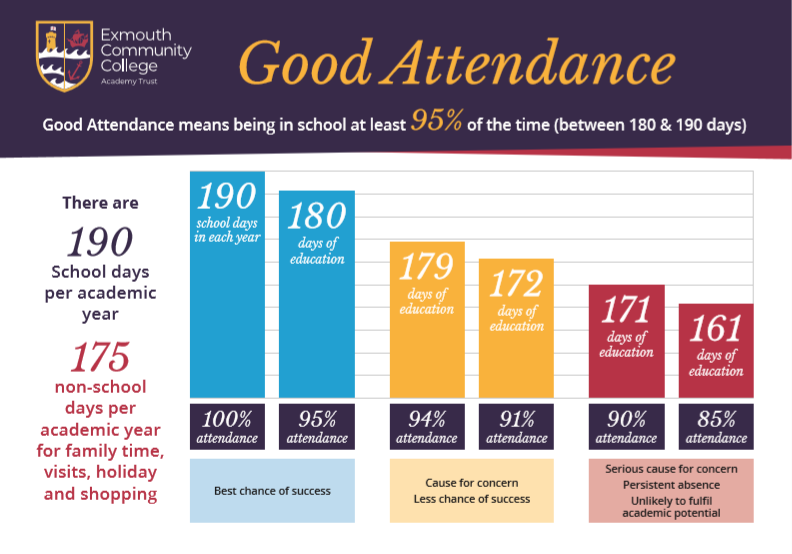 Information on child employment rules: click here
College Attendance Policy HERE