Examinations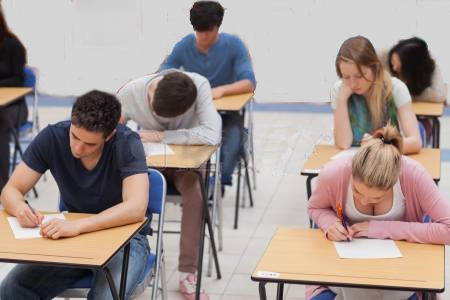 Telephone Exams Office
01395 255719 or 01395 255663
Due to the Coronavirus closure, please regularly check emails from the college for updated information, closure info here, the news feed and on ECC social media.
EXAM CONTINGENCY DAY
The Joint Council for Qualifications (JCQ) have announced a contingency day for the summer exams series 2020. The date that has been set aside as the 'contingency day' is WEDNESDAY 24TH JUNE 2020.
The contingency day for ALL external examinations has been put in place "in the event of widespread, sustained national or local disruption to examinations during the June 2020 examination series"
Therefore, in the event of a major disruption, JCQ and/or the relevant Awarding Bodies may decide to postpone an exam to another date in the June 2020 exam series. This means that any students sitting external examinations in June 2020 must be available until Wednesday 24th June to sit any exams that had to be postponed.
Key Stage 4 Students are expected to attend examinations in full College uniform.
We expect students to arrive on time for examinations: students may be unable to enter an examination after it has been formally started
We expect students to attend with all the necessary equipment
Students should not expect that we will supply equipment
Students will be told what is required for examinations well in advance
All students receive a personal examinations timetable
Revision and support classes are run for all students taking exams: please encourage your child to take these extra classes
Ensure that your child knows his/her examination timetable
Organise a suitable place for your child to revise
Make sure your child has a revision timetable worked out
Summer Public Examination results are published in August
| In 2020 | |
| --- | --- |
| GCE: | 13 August |
| GCSE: | 20 August |
Timetable
Reports Issued

Parents' Evening

Formal Tests

M

T

W

Th

F

1

Sep

4

5

6

7

8

11

12

13

14

15

Yr 7 CATS

18

19

20

21

22

Yr 7 CATS

25

26

27

28

29

Oct

2

3

4

5

6

9

10

11

12

13

Yr 13

16

17

18

19

20

Yr 11

23

24

25

26

27

Nov

30

31

1

2

3

6

7

8

9

10

Yr 7 Meet the Tutors

13

14

15

16

17

Yr 12

20

21

22

23

24

27

28

29

30

1

Dec

4

5

6

7

8

Yr 9

11

12

13

14

15

All Year Groups

Yr 11 Mocks

18

19

20

21

22

25

26

27

28

29

Jan

1

2

3

4

5

Yr 13 Mocks 03/01

8

9

10

11

12

Yr 13 Mocks

15

16

17

18

19

Yr 11 Mocks

22

23

24

25

26

Yr 13

Yr 11 Mocks

29

30

31

1

2

Yr 10

Feb

5

6

7

8

9

Yr 12 & 13

Yr 9 Options Eve

12

13

14

15

16

19

20

21

22

23

Yr 11 & Mock morning

26

27

28

1

2

Mar

5

6

7

8

9

12

13

14

15

16

19

20

21

22

23

Yr 7, 8 & 9

Yr 10

26

27

28

29

30

Yr 11, 12 & 13

Apr

2

3

4

5

6

9

10

11

12

13

16

17

18

19

20

23

24

25

26

27

May

30

1

2

3

4

7

8

9

10

11

Yr 10

14

15

16

17

18

21

22

23

24

25

28

29

30

31

1

Jun

4

5

6

7

8

Yr 12

Yr 8

11

12

13

14

15

18

19

20

21

22

Yr 7

25

26

27

28

29

Jul

2

3

4

5

6

Yr 7, 8, 9, 10

Yr 10 Core Subjects

9

10

11

12

13

Yr 12 Mocks

16

17

18

19

20

23

24

25

26

27