Library
D'you want to know where real magic lives? It lives within the pages of books. Reading for fun can change who you are and who you can be. (Malorie Blackman)

New Library System - Accessit
The College is now using AccessIt. It is accessible via a tile on Rmunify just as Eclipse was. Students will no longer be able to access the Eclipse Library System.
The good news is you no longer need a password!
A full explanation of how to use the new system will be given this term.
---
Top Ten Success for Exmouth Reading Champions
Two Exmouth Community College teams had Top 10 success at the Regionals for the National Reading Champions Quiz. The teams were formed from Year 7-9 students who had either been put forward by their English teachers or were identified by the librarians as prolific readers.
We initially had 25 students who attended the first training session after school and then for another two further sessions, before they were narrowed down to the final 12. The event itself lasted over 2 1/2 hours and took the format of a live quiz via Zoom. There were 10 rounds of questions including; picture, illustrator, anagram, and video rounds, which required a vast breadth of literary knowledge, including classics by Tolkien and C.S. Lewis to current authors R J Palacio and David Walliams.
---

The Yoto Carnegie and Kate Greenaway Medals are the UK's longest running and best-loved children's book awards, recognising outstanding reading experiences created through writing and illustration in books for children and young people.
This year at Exmouth Community College we are shadowing both the Carnegie and Greenway Awards. We have a Year 9 Carnegie and Cake Shadowing group who were put forward by their English teachers as potential participants. This group will meet weekly to discuss the books and prepare a presentation on their chosen books, championing why the book should win.
Our Greenaway group is a Year 7 class who have been chosen to shadow and champion a Greenaway nominated book, this is an exciting opportunity for them to participate.
They shortlisted books are below, any student who wishes to can also read and review the books, which will be available in the library.
https://carnegiegreenaway.org.uk/yoto-carnegie-medal-shortlist-2022/
https://carnegiegreenaway.org.uk/yoto-greenaway-medal-shortlist-2022/
About the Award
The Yoto Carnegie Medal is awarded by children's librarians for an outstanding book written in English or an outstanding book in terms of illustration for children and young people.
Unique in that they are judged solely by librarians, the roll-call of past winners includes: Arthur Ransome, C.S. Lewis, Terry Pratchett, Philip Pullman, Noel Streatfeild, Sally Gardner and Elizabeth Acevedo for the Carnegie; and Raymond Briggs, Shirley Hughes, Janet Ahlberg, and Children's Laureates Quentin Blake, Anthony Browne, Chris Riddell and Lauren Child for the Kate Greenaway.
A national (and international) reading for pleasure initiative, the Carnegie and Kate Greenaway Awards Shadowing Scheme engages thousands of children and young people in reading the books on the shortlist via reading groups in schools and public libraries with dedicated educational reading resources and promotional materials to support each shortlist. Each year young people who take part in the scheme are invited to vote for their favourite books to win the Shadowers' Choice Awards, which are announced alongside the Medal winners at the annual winners' ceremony. The Medals are awarded annually by CILIP, the library and information association and the Youth Libraries Group with longlists announced in February, shortlists in March and the winners announced at a ceremony in June.
---
To all the winners of the World Book Day competitions
We had a huge amount of entries and enjoyed reading about some of your favourite books and who you would invite as a dinner guest.
'My favourite book is Wonder is it about a story of a boy who overcame bullying . . . . It's a really inspiring story.'
For a list of prizes winner click here - Prizes can be collected from the library.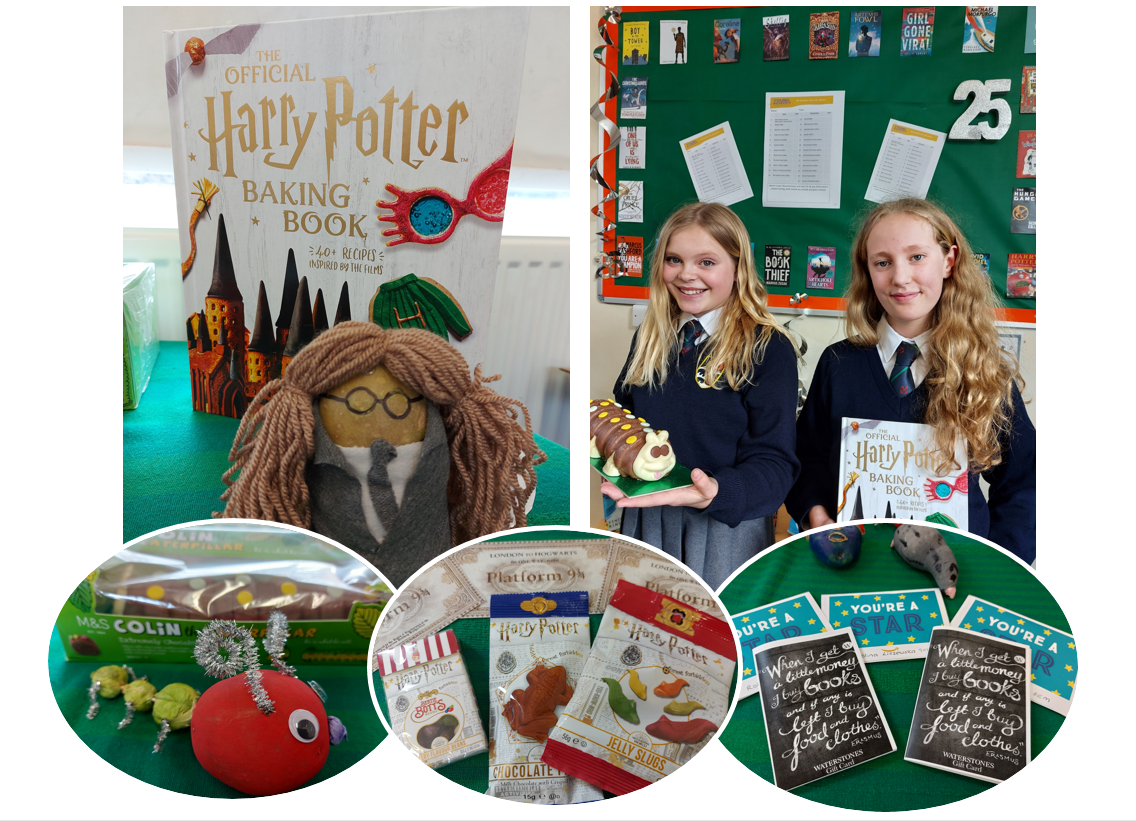 ---
The library at ECC is a lively and vibrant facility that supports learning across the college
Our librarians, Mrs Burrows and Mrs Hatchard, provide a welcoming and supportive environment to encourage students to improve their literacy skills, develop confidence and enjoy reading.
The college has developed a strong reading culture, all lessons start with 5 minutes reading and students should have a reading book in their school bag every day.
Before, during and after school students can browse and borrow our extensive resources, read in our comfortable seating areas, undertake research and complete homework. Top Trumps and Brain Box games are available at break and lunchtime.
What We Have To Offer
Over 30,000 fiction and non-fiction books to choose from, across a wide range of genres and authors, including graphic, manga, cartoon and comic strip books
We run the Accelerated Reader Scheme for all Key Stage 3 & Year 10 students
Free ebooks and audiobooks for all students via the Sora App
A large collection of DVDs are available to borrow, free of charge
Students can borrow up to 4 books for 3 weeks and 1 DVD for 3 nights at a time
We regularly refresh our stock with new and exciting titles/authors and are committed to improving diversity with an expanding selection of BAME and LGBTQ+ themed books
13 computer stations available for homework, AR quizzing and school-related Internet based research
Regular library sessions for all English sets across KS3 and Year 10
Dedicated librarians to offer advice, recommendations and support to students from all year groups-we are here to help!
KS3, Year 10+ and Adult Fiction sections
Comfy seats/bean bags to read and relax in
Fun and exciting displays and frequent competitions with fantastic prizes-take a look at our 'What's On' and 'Competition Time!' pages in the drop-down menu to the left
A "Suggestions Box" for students to request new resources
Popular author visits and workshops
World Book Week and other exciting events throughout the year that students can participate in
The library hosts Homework and Study Support Monday-Thursday 3-4pm for all KS3 students, which is staffed by Learning Mentors, to help with homework tasks
A photocopier and printer for student use
Library Tour