Activity Week 2022
The normal College timetable will be suspended for Years 7, 8 and 9
We are happy to announce that we hope to be able to offer Activity Week in July 2022. It is an important part of the calendar at Exmouth but unfortunately because of the pandemic and its restrictions we can only offer a reduced programme. This is an opportunity for the students to celebrate their year of hard work and also allow them to work together in less formal situations.




How to make a payment
Payments are not requested until the Summer Term. Further details will be given with the student allocation letter later this term. All payments should be made using the student sQuid account, no cash will be accepted.
We ask that payment is made in full for your chosen activity, although contributions are voluntary.
In the event that insufficient contributions are made, then an activity may have to be cancelled.
We have offered a range of activities both in terms of interest and cost, which will enable everyone to participate in a worthwhile activity.
If you have any concerns regarding payment, please contact Mr Allen (graham.allen@exmouthcollege.devon.sch.uk)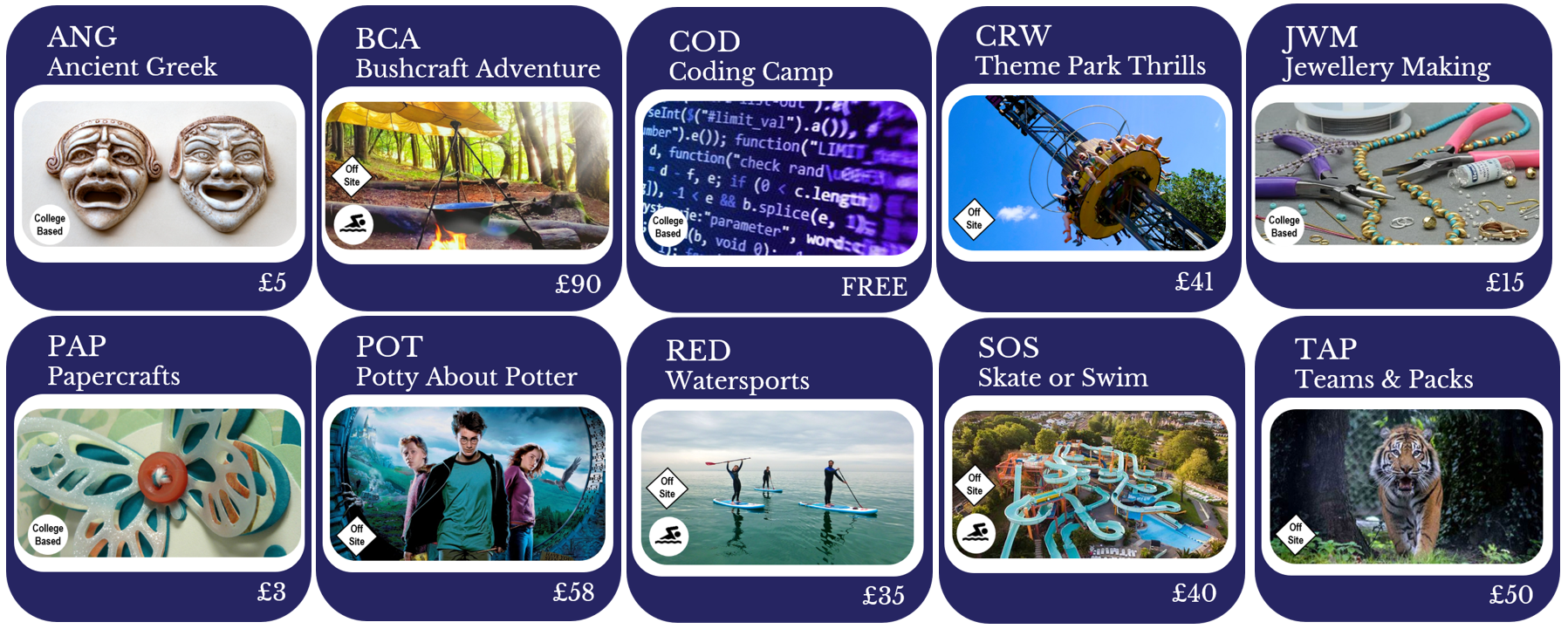 Please note: details of activities are correct at the time of going to print. We reserve the right to withdraw or change activities if circumstances change or to withdraw students who persistently misbehave during the year. All costs in this booklet are approximate and could change depending on the final number of students taking part in each activity.
Crealy Passes
Students with a season pass for Crealy can use them on the day if allocated to CRW – Theme Park Thrills. The cost will be reduced to £29, but they MUST bring their pass on the day. Please tick this option on the Return Form.
Note: the College accepts no responsibility for lost passes.
Off Site Consent
We will be using the information given on the student Data Collection Form (DCF) for medical consent.
To have permission to go off site a student needs to have returned a DCF for their current school year, or the one directly previous ie 2021/22 or 2020/21. If this is not held by the College you will be contacted directly.
During the year please ensure you inform the College of any changes in circumstance or medical conditions.
Attendance
We regard Activity Week as an important part of your son's or daughter's education and expect normal attendance. Reasons for non-attendance need to be submitted using an absence request form (S2), as the College has to provide details of all unauthorised absences to the Department for Education.
Every absence must be supported by a parental explanation which will be authorised by the College if the reason is acceptable.
A form can be downloaded at: Exmouth Community College - Parent / Carer Quick Guide
Enquiries
Contact 01395 255621 or email Alex.Durairaj@exmouthcollege.devon.sch.uk