The Exmouth Community College Citizenship Rewards are here!!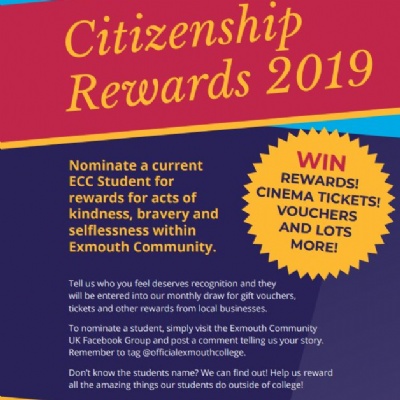 We want to hear all about, and reward, the AMAZING things our students are doing outside of college in the community! We want them to know they are respected and valued and to say 'Thank you'! We've have teamed up with Exmouth Community UK! to make it happen.
"Those who are happiest are those who do the most for others."
– Booker T. Washington
It is easy for us to recognise the outstanding academic and extra curricular achievements of our students in college. Tell us the random acts of kindness, the selfless acts, the incredible things they are doing within the community of Exmouth and surrounding area!
How does it work? Simply post your story on the Exmouth Community Uk Group telling us what amazing thing you saw a young person doing within the community. Please tag @officialexmouthcollege so we can see your nomination. Don't know their name? A decent description will help us find them. Or better still, go and ask them their name, tell them you think they are amazing and would like to nominate them for a reward. Everyone month we will draw a winner (more than one if we can) to give them a reward from a local business to say thank you.
Many local businesses such as Ocean - Exmouth, Bumble and Bee, Proserve UK limited and the Savoy Cinema, Exmouth have already generously offered to donate rewards. If your business would also like to donate a reward please get in contact: https://www.exmouthcollege.devon.sch.uk/page/?title=Contact+Us&pid=2