EXMOUTH COMMUNITY COLLEGE CROWNED NATIONAL TENNIS CHAMPIONS 2018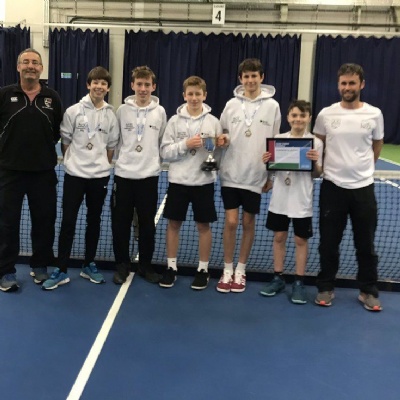 Exmouth Community College - National Schools Tennis Champions!
The under 14 boys' team from Exmouth Community College became national schools tennis champions on Sunday 9th December, following a nail-biting finish in the championship finals held in Bolton, Greater Manchester.
The team of five, comprising Ben Johnson, Chris Denton, Lucas Urquiza, Alfie Woodger and Sam Sidgwick, had previously battled their way through district, county and regional tournaments to reach the championship finals. Along the way, they had taken on and beaten teams from a number of highly ranked and prestigious schools such as, Millfield, Truro School and Bournemouth Collegiate School.
As the only team from a state school to make it to this year's championship finals, the boys from ECC won their opening matches against Merchiston Castle (Edinburgh) and Trent College (Nottingham) without losing a rubber, before taking on the No.1 seeds Culford (Suffolk) in the decider.
Needing to win four of the six rubbers, wins from Chris Denton, Lucas Urquiza and Alfie Woodger in the singles left the team leading 3-2, but still requiring a win in the final doubles match to become national champions. With the boys taking on highly ranked opponents, the pairing of Ben Johnson and Chris Denton managed to take the decider 6-3 to ensure that the team won the championship.
Head coach Liam Storey, who has worked with the youngsters at ECC for nine years, said: "The boys worked hard and were a great team all weekend. They showed immense support for each other and behaved professionally both on and off the court. A well deserved national title for Exmouth Community College!"
Storey continued… "The boys always show commitment in training and they've had some great support from their coaches, not least Derek Blackmore and they are fortunate to have top class facilities at LED Tennis Centre in Exmouth but in the end, it's the boys that went out on the court and won it and full credit to them for their efforts."
Mr Lowe, Head of Sport and Leisure at ECC, made the following comments: "This is an unbelievable achievement for the students involved, Exmouth Community College and all the coaches from Exmouth Tennis Centre. I am very proud of all the hard work everyone has put into the programme especially the students! The Academy Tennis Programme at Exmouth has worked so well with the support of the LED, in particular, with the coaches Liam and Derek and of course, the amazing students who are part of it. The programme has been funded by the College, LED, the students' parents and including some help with kit from Outstanding Education Solutions and Proserve. If anyone is interested in sponsoring the Exmouth Tennis Academy for next year, that has National Champions as part of it, then please get in touch!"