BEHAVIOUR AND ATTENDANCE INFORMATION FOR 2021 to 2022
Dear Parents & Carers
Firstly, I would like to thank all parents and carers for their continued support as we head into this academic year. We are extremely proud of how our students have managed all of the challenges during the last academic year and we are looking forward to a positive year ahead. This communication is to update you on the work we have been doing over recent months around behaviour and our College expectations and it will outline the key information you will need to know and act as a reference point for information during the academic year.
BEHAVIOUR HUB
Following some initial revisions to our behaviour strategies in March 2021, we have further reviewed and renewed approaches for 2021 to 2022. In February 2021, we applied to be part of the national Behaviour Hub programme. This is a national initiative which allows schools to work together to develop approaches to behaviour management, sharing best practice embedded in research. As part of the programme, I visited two outstanding schools during the Summer Term along with Mr Smith (Assistant Principal – Pupil Premium and SEND). We have also hosted visiting schools within our Hub. In addition, I have attended webinars with leading figures nationally in behaviour management including Tom Bennett.
https://www.gov.uk/government/publications/behaviour-in-schools
This has been a valuable programme and we continue to work with an outstanding school for the next year as our recent changes establish themselves across the College.
THE ECC WAY
The ECC Way encapsulates the way we do things at the College. The way we organise our routines, the way we praise and the way we communicate with each other. The aim is for every member of the College community to be consistent with routines, always praise as often as we can, be consistent with interactions and restorative conversations. The ECC Way is on the back of student planners for every student and it outlined below: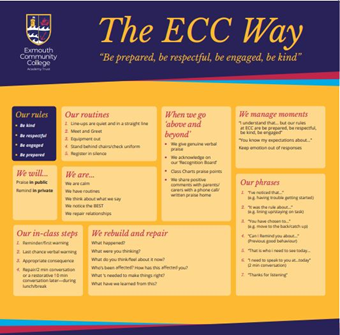 BE READY TO LEARN – OUR CORE EXPECTATIONS
In College our expectations revolve around the four areas below. These are used when praising and reminding students, and in our everyday interactions.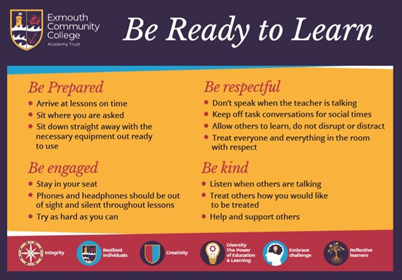 REWARD AND PRAISE
To ensure this system is clear and easy to understand, there are now only four praise point categories on Class Charts – Being Prepared, Being Engaged, Being Respectful and Being Kind.
We have reviewed and relaunched our rewards system to include:
Our online shop located in Class Charts – this will be reintroduced after October half term.
Achievement badges and certificates for key reward thresholds as outlined below. The accolades are reflected in Class Charts profiles and parents/carers will be notified through Class Charts when reward thresholds have been reached.
The Inter Tutor Group League and other reward incentives.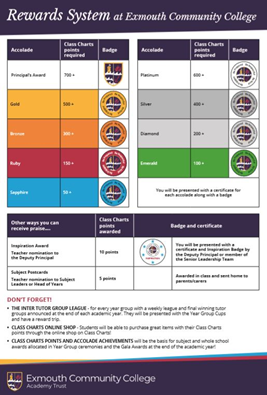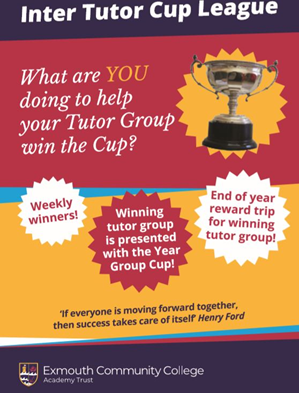 THE READY TO LEARN - RTL SYSTEM
The Ready to Learn system has been further reviewed for this academic year. There are now the following negative point categories on Class Charts.
Incorrect uniform, Late, Not Equipped, Not Prepared, Not Respectful, Not Kind, Not Engaged
(1 point)
No Homework, RTL
(3 points)
Why is a student sent to RTL?
All students are should meet our expectations and be Ready to Learn. However, if students are not meeting our expectations, two verbal warnings for disruptive behaviour in class (anything which will slow down learning) is given by the teacher. If the student continues to not meet expectations, the student will be sent to the RTL room for the remainder of the lesson. The student will then complete an hours detention the following day during break and lunch where they will catch up the learning they missed.
After school detentions
If three negative points are issued in one day, the student will need to attend an after College detention the following day between 3:15pm and 4:15pm. This detention will be extended to 4:30pm should any student not complete the required work by 4:15pm.
If a student is given a No Homework negative (3 points), an after College detention is issued straight away for the following day between 3:15pm and 4:15pm. Please support your child and the College by notifying us if there has been an issue completing homework on time by writing a note in your child's homework diary. It is expected that the teacher will have spoken to the student should the homework be late, supported them and if required talked to the parents/carers. Students are then given 24 hours to complete the homework before issuing the negative point.
All points on Class Charts can now be seen by parents and carers, along with any accompanying comments from the teacher. Parents and carers will also be notified through Class Charts should the three negative point threshold be reached in a day or if there is an RTL referral. If you are not on Class Charts yet please contact beck.beaumont@exmouthcollege.devon.sch.uk for your access code. Students can also download a free student Class Charts app to help them access their profile.
UNIFORM / PE KIT AND EQUIPMENT
Link to the full uniform list:
https://www.exmouthcollege.devon.sch.uk/parents-and-students/parent-/-carer-quick-guide/uniform-and-personal-appearance
Link to the current PE kit list:
https://www.exmouthcollege.devon.sch.uk/parents-and-students/parent-/-carer-quick-guide/pe-kit
Link to the equipment list:
https://www.exmouthcollege.devon.sch.uk/parents-and-students/parent-/-carer-quick-guide/classroom-equipment
Key uniform points from the start of term:
Jewellery – only one stud per ear lobe is allowed. Any additional jewellery will be taken for the day on the first occasion and 5 days on the second.
Socks – white socks are not permitted to be worn. Plain black socks should be worn without logos on them. They should also not be worn over tights.
Jumpers – should not be tucked in.
Optional leggings and tracksuit bottoms – thank you to the vast majority of parents and carers who have supported our policy by wearing ECC leggings and plain black tracksuit trousers as part of the optional kit. We currently will not be issuing negative points for not wearing these items up until half term so all parents/carers have been able to address the optional kit requirements. There will be further communication in the next week.
Hoodies and non-uniform jumpers – should not be worn to College or with the PE kit and will be taken from students if worn for a day on the first occasion and 5 days on the second.
Clarification on when to wear PE kit – students should only wear PE kit to College on core PE days. This will be for all PE lessons at KS3 and only core PE lessons for Key Stage 4. For students studying GCSE PE at Key Stage 4, they should bring their PE kit to all GCSE PE lessons and change at the lesson if it is a practical session.
ATTENDANCE AND PUNCTUALITY
The Government has confirmed that attendance to College is mandatory. Please click on the links below for Department of Education recent guidance around attendance issued over the summer:
https://www.gov.uk/government/publications/what-parents-and-carers-need-to-know-about-early-years-providers-schools-and-colleges-during-the-coronavirus-covid-19-outbreak/step-4-update-what-parents-and-carers-need-to-know-about-early-years-providers-schools-and-colleges
https://www.gov.uk/school-attendance-absence
All the key information you will need regarding attendance (including a parent/carer attendance guide), phoning in an absence and numbers, applying for time from College for exceptional circumstance and child employment can be found through this link:
https://www.exmouthcollege.devon.sch.uk/parents-and-students/parent-/-carer-quick-guide/attendance-and-holidays
Key points for attendance and punctuality:
If your child is absent from College, please phone the absence in as early as possible to the relevant Key Stage office (numbers can be found through the link above). Please follow the guidance emailed home last week should your child be absent due to testing positive for Covid 19.
Upon return to College, please can you write a short note in your child's student planner explaining why they have been absent. Your child must show it to their tutor upon return.
All students must be on site at 8:20am each morning. Gates close at this time. Registration begins promptly at 8:25am and should students not be at tutor base for 8:25am, they will receive a late mark. If you child is late due to reasons outside their control such as a bus being late, they will not receive a negative late mark.
If you are applying for time off College due to exceptional circumstances, you must fill in and submit the S2 form well in advance of the proposed absence period. A copy of this form can be found on our website (link above). A reminder that we cannot authorise any holidays or absence we deem not exceptional.
If you are at all worried about your child's return to College, please get in touch with your child's tutor or Year Office as soon as possible who will be happy to help. Find the contact information for your child's tutor or Pastoral team below:
https://www.exmouthcollege.devon.sch.uk/contact-us
Mobile phones
A reminder that mobiles phones can be brought to College but should be switched off and put out of sight upon arrival. They should not be taken out again until students leave the site at the end of the day. If your child needs to contact you during the College day, they should go to the nearest Key Stage or Year office who will be happy to assist. If a phone is taken out by a student during the College day, it will be confiscated in the first instance for 5 days and returned under agreement.
Rewards and Behaviour Policy and addendum
Due to Covid-19, there is a Behaviour Addendum document in addition to our Rewards and Behaviour Policy, which was updated during the summer term 2021. If you wish to read this document, please click on the link below:
https://www.exmouthcollege.devon.sch.uk/about-us/policies
Behaviour in the community
I would be grateful if you could stress to your child that they represent the College when walking to and from the College. We have emphasised the importance of behaving in a respectful and kind way at these times and we want to continue to receive positive messages from members of our community about our students.
Finally
All students have seen a presentation upon return to the College, which covers all expectations this academic year. The presentation can be accessed through the following link:
I realise this is a lot of information but it will hopefully act as a useful reference point during the academic year. Thank you for your anticipated support. We have had a positive start to the academic year and are proud of how our students are settling back into the routines of College.
Yours faithfully
Mr D Turner
Deputy Principal