Ten Tors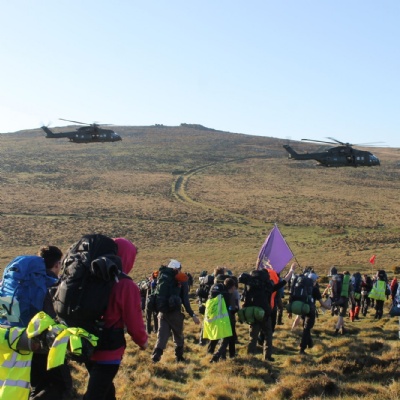 Twelve of our fantastic Year 10 students completed the Ten Tors challenge yesterday.
Head of Performing Arts, Jez Turner, gives and overview of the event:
"We took two teams out to Okehampton Camp on Friday morning and they spent the day preparing their kit and their routes for the challenge ahead. After a damp night we were awoken to a glorious sunrise (and the tune of Chariots of Fire blaring through the PA system) at 5am. We made them all a cooked breakfast and took them up to the hill ready for the start at 7am.
Team A headed first for Prewley Moor on a route that took them anti-clockwise around the north moor. Team B headed up to Cosdon Hil for their first checkpoint on a route that took them clockwise around the moor (fortunately for them this was almost exactly the route we had taken them on only two weeks before in training). Both teams left in good spirits but a member of Team A twisted her ankle before reaching the first checkpoint and it looked like she might have to pull out. Although the team was delayed while she received first aid, she refused to let them down and they soldiered on together to an overnight camp at Rough Tor before crossing the finish line yesterday at 3pm. Team B powered on to their 7th tor before overnighting at Standon Farm and we cheered them over the finish line at midday yesterday.
If you see any of these tired, sunburnt, hobbling heroes around this week please do stop to congratulate them on their amazing achievement. We are are so proud of them and of the other students from the college who completed with their scout or cadet teams.
The teams were:
A Team (BG)
Rebecca Squires (Captain)
Bradley Chowings
Louise Lawson
Erin Mcdonald
Rob osbourne
Kai Lines
B Team (CG)
Max Abrehat-Smith (Captain)
Imogen Congreve
Alice Parker
Ryan Horne
Noah Lowery
Emma Gill
Finally I just want to add a massive thank you to Lynn Tisbury for everything she does for Ten Tors (which is pretty much everything!), to her and Mike Glanville for all they have done for these students throughout the training and the event itself, and also to Howard Mallet, Tom Webster, Richard Lucas, Gary Bowen and everyone else who has supported with the training."