Behaviour, Attendance and Teaching & Learning information on return to full opening of the College
Please enter an introduction for your news story here.
Dear Parents/Carers,
RE: Behaviour, Attendance and Teaching & Learning information on return to full opening of the College
Firstly, we would like to thank and congratulate all parents and carers for their support with remote learning during lockdown. We are extremely proud of how our students coped with online learning and are looking forward to welcoming everyone back to the College shortly.
Be Ready to Learn – our core expectations
We are keen students are refreshed with our expectations upon re-entry to face to face teaching. They will receive a presentation from their tutor to revise our four Core Expectations: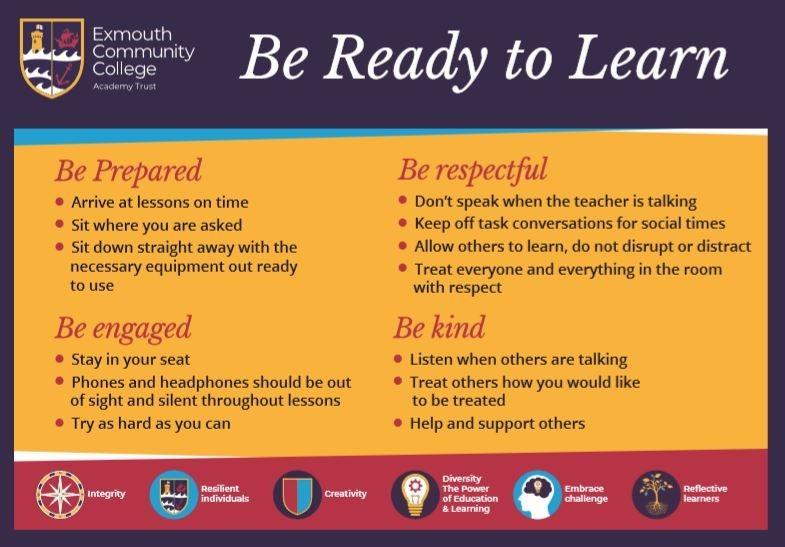 We would be grateful if you could remind your child of these expectations before they return to help them adjust back to full time College life.
The 'ECC Way'
In addition, we are launching the 'ECC Way' which summarises the way we interact with each other as a College community (please below). Again, we will share this with students upon their return. The aim is for every member of the College community to be consistent with our routines, always praise as often as we can, be consistent with interactions and restorative conversations.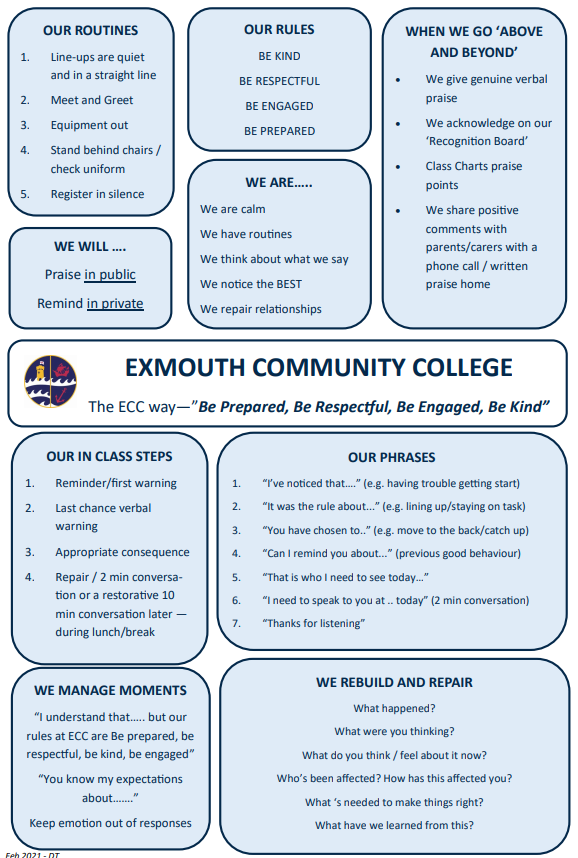 Uniform
It is important we make the best possible start to the term and can fully focus on learning. Therefore, please check your child's uniform before coming back to College and ensure it meets the uniform requirements as set out on our website (link below):
https://www.exmouthcollege.devon.sch.uk/parents-and-students/parent-/-carer-quick-guide/uniform-and-personal-appearance
A reminder that only one stud per ear should be worn in terms of jewellery and that trainers are not allowed, only polishable black shoes. White socks should also not be worn to College.
Attendance and punctuality
The Government has announced that attendance to College is mandatory from Monday 8th March. However, the College is allowed to phase students back in the first week to accommodate testing. Please click on the link below for Department of Education guidance around attendance:
https://www.gov.uk/government/publications/what-parents-and-carers-need-to-know-about-early-years-providers-schools-and-colleges-during-the-coronavirus-covid-19-outbreak/what-parents-need-to-know-about-early-years-providers-schools-and-colleges-during-covid-19
If you are at all worried about your child's return to College, please get in touch with your child's tutor or Year Office as soon as possible who will be happy to help.
All students should aim to arrive five minutes before their allocated time at the start of each College day so they are ready to line up in the collection point and make a punctual, orderly start to the day. Staggered timings will remain the same as the autumn term for the immediate future.
Be prepared
Please can you ensure your child is prepared for coming back to College. As well as checking uniform, ask them to check they have the correct writing equipment and bag. Continue to encourage them into good habits of packing their back the night before to ensure they have everything for the next day.
Mobile phones
A reminder that mobiles phones can be brought to college but should be switched off and put out of sight upon arrival. They should not be taken out again until students leave the site at the end of the day. Should your child need to contact you during the College day, they should go to the nearest Key Stage or Year office who will be happy to assist. If a phone is taken out by a student during the College day, it will be confiscated in the first instance for five days and returned under agreement.
Behaviour addendum
Due to Covid-19, there is a Behaviour Addendum document, which has been written during the summer term 2020. If you wish to read this document, please click on the link below:
https://www.exmouthcollege.devon.sch.uk/about-us/policies
Teaching and Learning – Review, Reflect, Record
As part of our focus on using the Education Endowment Foundation Framework for teaching and learning we have been Activating, Explaining and Practising new material during remote learning. We will now have a focus on the Review and Retrieval aspects of the framework. Teachers will set a variety of tasks to help students identify what they should know now and what they should know by the summer. Then, having considered both the work completed in lockdown and retrieval work record every students learning at this time. We will use this information to identify student success and our next steps in planning for learning and any extra support needed in the summer term.
Behaviour in the community
We would be grateful if you could stress to your child they should be socially distanced from others walking to and from College, observe this when walking past members of the community and should go straight home at the end of the day whilst we remain in lockdown. Not observing social distancing to and from College will undermine our huge efforts in Covid secure routines and testing. We want to ensure we are keeping all members of the College community safe at this time.
Thank you for your continued support. We are all looking forward to welcoming our students back to the full time face to face teaching at the College.
Yours sincerely,
Andrew Davis David Turner
College Principal Deputy Principal