U15's Rugby Tournament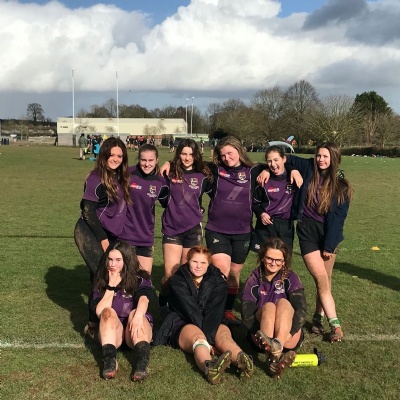 Inter-school competition at Clyst Vale Communinty College
Nine extremely talented female students from year 9 and 10 – Alberta Sprague, Matillda Board-Medley, Rosie Tidball, Ebony Mardle, Georgia Kew, Amy Wright, Masie Notman, Via Gilmour and Lydia Stimson - represented Exmouth Community College in an inter-school rugby competition on Wednesday 26th February, hosted by a very hospitable Clyst Vale Community College.
The day started with a morning of skills training ran by qualified RFU rugby coaches, focussing on tackle technique and scrummaging. All 9 schools really embraced the morning, mud and all, and came away raring to put practice into action!
To get the tournament underway Exmouth played Uffculme in the first game of 'Pool C', completing 7-minute halves and followed conditioned game rules. Uffculme came off to a flying start, breaking Exmouth's defensive line and dotting the ball over the try line. However, this did not set our girls back and the game ended 30-15 to Exmouth. Winning ways continued into our next game against Cullumpton with the girls coming away with a 30-point led. Fantastic sportsmanship was seen by all teams, with Uffculme even providing Exmouth with one of their own players due to a shortage of numbers and an unfortunate injury early on.
With 2 wins in the bag, Exmouth were promoted into the top pool for the second and final round of the tournament. This pool consisted of the winners from pool A and B and Exmouth knew they had to step up to the mark. In-depth game knowledge and leadership skills were demonstrated within the Exmouth team, with players successfully identifying strengths and weaknesses within their own play and the oppositions. Exmouth played their first game against Sidmouth College and each team showed equal talent, grit and determination – final whistle 25-25. The last game of the tournament was immediately after Exmouth vs Sidmouth and saw Exmouth take on Queen Elizabeth's School. Despite signs of fatigue the girls pulled together and fought until the very end. Unfortunately, the score did not go their way and QE came away with a 35-10 win. Nevertheless, Exmouth came away with a joint 2nd place position and have secured themselves a spot in the Devon Finals taking place in March.
Congratulations girls for all your hard work and best of luck for Devon – you did Miss Guy, Mrs Glover and the school proud!