How well do you know the Exe Estuary?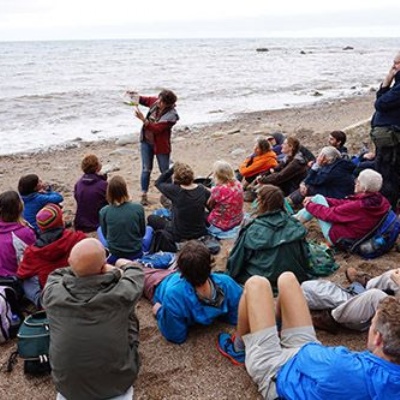 Year 7 Geography students are being offered the opportunity to participate in an exciting community project called 'Tidelines' - open to the whole community too!
Tidelines is a new community project bringing together arts, science, local knowledge and academic research in creative ways to celebrate and learn more about our changing home. It is run by Exmouth residents in partnership with Exeter University and launching this month to celebrate and discover more about our unique estuary and coast.
It'll be asking the questions:
How can we celebrate and learn together about the Exe estuary and coast?
What do we want and need to know about our unique location?
How can we be active in responding to changes to our environment and climate?
Tidelines would love involvement from accross the community. Despite being in lockdown there are still activities you can do to take part from home or as part of daily exercise. See the Things to do Now page of https://tidelines.uk/. These include taking and uploading photos, drawing your own map, asking estuary questions you are curious about, recording things you have seen and more. These are suitable for all ages.
Anne-Marie Culhane & Jo Salter, co-ordinators of Tidelines said:
We have set up these activities in order to explore what people are really interested in and concerned about and to use this to inform future activity, events and research. Whether you are a dog walker, a fisherman, a kite surfer, a scientist, someone who can't get outdoors or someone who just loves the Estuary there should be at least one activity that you can be part of.
Tim Dafforn, East Devon District Council Countryside Team:
Tidelines is an exciting community-based project, drawing on resident's experiences and developing new ways to understand the internationally important habitats that surround us. This project will develop community awareness of the ever-changing coast, deepen our relationship to it and support positive action. We will be a strong partner helping to build greater links between people and nature
Nicky Nicholls,Transition Exmouth:
As our whole community starts to engage more with the climate and ecological emergency we face, it is so exciting to have Tidelines starting up. It will be very interesting to see how people here feel about the estuary and how they see themselves in its future
Tim Dumper, Exmouth Town Council:
As someone who grew up in Exmouth, the estuary was a big part of my early experience, so I really welcome Tidelines as a way of tapping into local people's feelings and observations. As a Town Councillor, I welcome the contribution this project can make to our local efforts to combat climate change and loss of wildlife, providing different dimensions to the purely scientific.
Lindsey Anderson, Community Engagement Manager at University of Exeter:
We are looking forward to learning with the local community about the estuary, and understanding how we can support responses to the challenges we all face due to climate and environmental change.
Later in the year, or early in 2021, Tidelines will be running public events exploring key themes of the estuary. These events were due to start this month but have been postponed. We also hope to be visiting groups out in the community in the future when it is safe to do so, so that they can participate. Tidelines welcomes working together with individuals and organisations so if you see a link between what everyone is exploring and what you are interested in or working on - please get in touch. You can find out more by visiting the website or by contacting them directly at info@tidelines.uk
Tidelines is partnering with the University of Exeter as part of the Socially Engaged Universities Project funded by the Erasmus + Programme of the European Union and with additional funding from the a South West Creative Technology Fellowship.
We are grateful for advice and support in developing our project so far from the Exe Estuary Partnership, Transition Exmouth, East Devon Countryside Team and University of Exeter.
https://tidelines.uk/ Email: info@tidelines.uk
Contact: Anne-Marie Culhane or Jo Salter
Phone: 07890244012